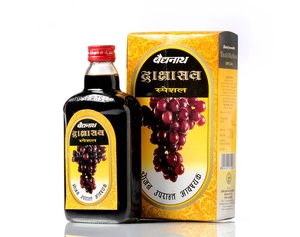 Importance: Effective as a stimulant, antipyretic, diuretic, appetiser and digestive. It is also helpful in piles, asthma, cough, worms, jaundice, and general debility.
Dosage: Useful in Diarrhoea Jaundice Anaemia Piles Also used for Tuberculosis Cough & asthma.
Indications: 20 to 40ml after meals with equal quantity of water or as directed by the physician.

This product can not be order online due to delivery restrictions.
For nearest store locator Click here.