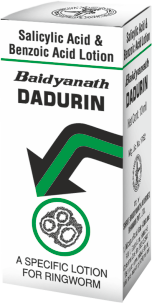 Importance: Effective liquid works as Antifungal and Antibacterial useful in skin infections, Eczema, Ringworm, Psoriasis and other skin diseases.
Dosage: Wash infected part of body by warm water and then apply dadurin on infected part gently.
Indications: Heals ringworm
Effective in Skin diseases
Anti-fungal
Anti-bacterial

This product can not be order online due to delivery restrictions.
For nearest store locator Click here.