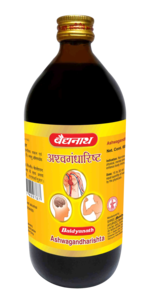 Importance: : Ashwagandharishta is effective tonic for releasing stress, mental fatigue. It also helps in getting natural sleep when tired. It also helpful in nervous debility.
Dosage: 15 to 30 ml twice a day with equal quantity of water, after meals.
Indications: Remove mental fatigue
Stress remover
help in natural sleeping

This product can not be order online due to delivery restrictions.
For nearest store locator Click here.