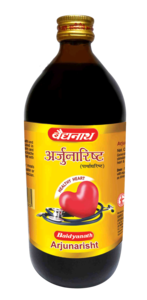 Importance: Arjunarishta is herbal heart tonic and cardiac stimulant useful in diseases of heart & respiratory disorders.It also maintains functioning of heart by enhancing the action of heart muscles.
Dosage: 15 to 30 ml after meals with equal quantity of water or as directed by physician.
Indications: General tonic and cardiac stimulant
Useful in diseases of heart

This product can not be order online due to delivery restrictions.
For nearest store locator Click here.