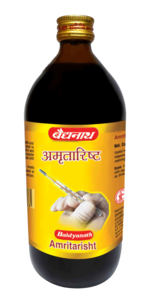 Importance: Baidyanath Amritarishta is Ayurvedic tonic useful in chronic and bilious fever and improves appetite. it also help in maintaining digestive disorder, hyper acidity
Dosage: 15 to 30 ml after meals with equal quantity o water or as directed b physician.
Indications: Useful medicine for chronic and relapsing fevers
Improves appetite
Improve digestive disorder

This product can not be order online due to delivery restrictions.
For nearest store locator Click here.